AUDE Estates Management Report 2017
Location: CBRE, St Martins Court, 10 Paternoster Row, London EC4M 7HP
Event Description:
YOU ARE INVITED
CBRE and AUDE would like to invite you to the launch of the estates management report 2017. The report provides a summary, insights and analysis of the 2015/2016 academic year.
The launch event features a morning of discussion panels and networking with keynote speaker Sir Ian Diamond, on the opportunities facing university estates.
Date: Friday 6th October 2017
Time: 9.30am – 1pm
Venue: CBRE, St Martins Court, 10 Paternoster Row, London EC4M 7HP
Cost: FREE
All delegates will receive a free copy of the report.
Map: click here
Scroll down to book. For any questions on booking please contact cheryl@aude.ac.uk / 01509 22 88 27
Programme
9.30 - 10.30
Optional breakfast, networking and registration

10.30 - 10.50 - Conference open and introduction
Introduction into this year's report and overview of challenges
Sir Ian Diamond

10.50 - 11.10
AUDE and CBRE highlights of the Estates Management Report 2017 including new analysis and key performance indicators.
Sue Holmes and George Griffith

11.10 - 11.30
CBRE research on the impact on property of millennials and their way of working.
Andrew Marsden

11.30 - 11.45
Break

11.45 - 12.45
Panel discussion with audience questions
Andrew Burgess, Anita Jackson, Nick Ratcliffe

12.45 - 13.00
Wrap up and learnings from the day
Total Tickets Sold:
42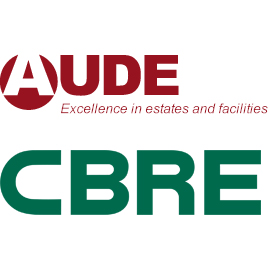 Date : 06/10/2017
AUDE Estates Management Report 2017 Launch
| Ticket | Remaining | End | Price |
| --- | --- | --- | --- |
| | 58 | | £0.00 |